I see a whale!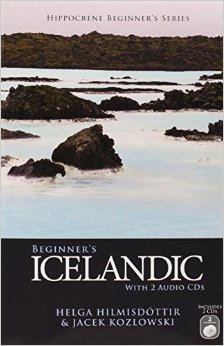 Beginner's Icelandic wants you to learn the words hvalaskoðun, "whale watching", and jökull, "glacier", because that's pretty much why you're visiting Iceland in the first place. Unfortunately Jeremy in Chapter 9 can't appreciate them because he is sjóveikur, "seasick".
Excerpted from the dialogue (there's even a recording):
Jeremy, ég sé hval! Komdu og sjáðu, þarna er hvalur!
Jeremy, I see a whale! Come and see, there's a whale over there!
Æi, Steingrímur, ég er veikur. Ég vil bara vera í friði.
Oh, Steingrímur, I'm sick. I just want to be left alone.
Þetta er frábært! Og þarna sé ég líka lunda! Vá, hvað hann er sætur!
This is fantastic! And I see a puffin there too! Wow, he's cute!
Æææ. Mér líður svo illa. Ég wil fara heim.
Ooooh, I feel so bad. I want to go home.
Vá, og þarna sé ég líka regnboga. Sjáðu Jeremy, þarna er regnbogi!
Wow, and I also see a rainbow there. Look, Jeremy, there's a rainbow!
Steingrímur, hvenær komum við í land?
Steingrímur, when do we get back to shore?
Við komum bráðum í land. Ó, ég er svo svangur. Ég ætla að borða þegar við komum. Ég ætla að kaupa mér hamborgara!
We will get back soon. Oh, I'm so hungry. I'm going to eat when we get back. I'm going to get a hamburger!
Þegiðu Steingrímur! Hættu þessu!
Shut up, Steingrímur! Stop it!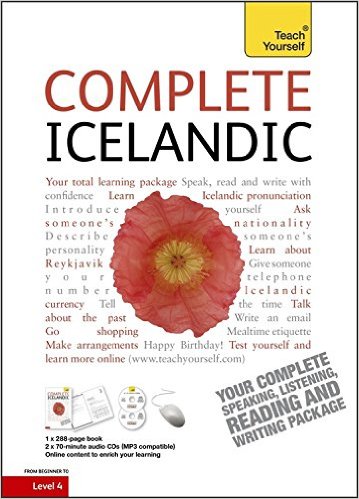 Meanwhile over in Teach Yourself land they're stuffing themselves on rækjuostur (shrimp cheese), ostapopp (cheese popcorn), and lakkrís (licorice) like they're the fattest country in Europe or something. Ég sé hval!
Written on February 16, 2016